Nanofiltration (NF) Elements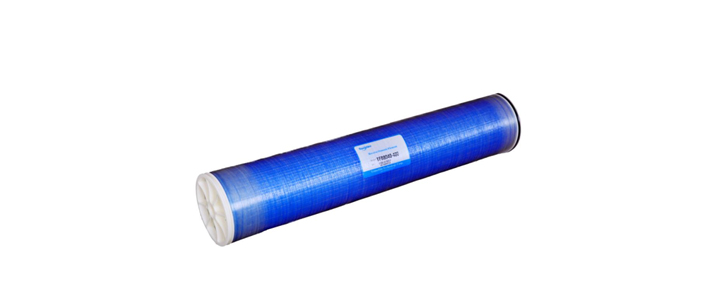 TRANSFILM™ Nanofiltration(NF) Elements can separate organics and salts from water and increase permeability while offering superior salt rejection They significantly reduce operating costs and procides optimum hardness rejection for softening applications and the removal of pesticides,bacteria or viruses.TRANSFILM™ Nanofiltration(NF) Elements are designed to provide high rejection of natural organic materials and moderate rejection of total hardness,while offering energt and cost savings.
· removing total organic carbon(TOC) and trihalomethane(THM) Precursors.
· 50%-90% salt rejection with Ultra-Low-Pressure operations,increased energy savings,and significantly lower installation and operating costs.
· various operating conditions with 4° and 8° elements.
Type
Model
Active
Membrane
Area
ft²(m²)
Stable
Rejection
Perrmeate
Flow
GPD(m³/d)
Test Condition
Test
Pressure Psl
(Mpa)
Test
Concentration
(ppm)
Recvery
(%)
90
Nanometer
Series
TFN90-400
400(37)
85~95%
7,500(28.4)
70(0.48)
2,000ppmNacl
15
≥98%
9.500(36.0)
2,000ppmMgSO4
TFN90-82
82(7.6)
85~95%
1,400(5.3)
2,000ppmNacl
≥98%
1,850(7.0)
2,000ppmMgSO4
150
Nanometer
Series
TFN150-400/34
400(37)
40~60%
8250(31.2)
2,000ppmNacl
≥98%
9,780(36.8)
2,000ppmMgSO4
TFN150-82
82(7.6)
40~60%
1,610(6.1)
2,000ppmNacl
≥98%
1,910(7.2)
2,000ppmMgSO4
280
Nanometer
Series
TFN280-400
400(37)
40~60%
14,700(55.6)
500ppmCacl2
≥97%
12,500(47.3)
2,000ppmMgSO4
TFN280-82
82(7.6)
40~60%
2,925(11.1)
500ppmCacl2
≥97%
2,500(9.4)
2,000ppmMgSO4
500
Nanometer
Series
TFN500-400
400(37)
≥90%
13,200(50.0)
2,000ppmMgSO4
TFN500-82
82(7.6)
≥90%
2,700(10.2)
2,000ppmMgSO4

Model
A inch(mm)
B inch(mm)
C inch(mm)
D inch(mm)
TFN90-400
40(1,016
0
1.5(38)
7.9(201
TFN90-82
1.05(25.7)
0.75(19)
3.9(99)
TFN280-400
0
1.5(38)
7.9(201
TFN280-82
1.05(25.7)
0.75(19)
3.9(99)
TFN500-400
0
1.5(38)
7.9(201
TFN500-82
1.05(25.7)
0.75(19)
3.9(99)
Maximum Operating Pressure 41 bar(600 psi)
Maximum Operating Temperature 45°C(113°F)
Maximum Pressure Dropper Element 1.0 bar (15 psi)
pH Range, Continuous Operation 2-11
pH Range, Chemical Cleaning 1- 13
Maximum Feed Silt Density Index (SDl15) 5.0
Free Chlorine Tolerance <0.1 ppm
1.Permeate flow rate s for individual elements may vary ±15%
2.Membrane active areas may vary ±4%
3.Stabilized salt rejection is generally achieved after continuous using for 24-18 hours,which depend on feed water qualities and operating conditions
* Send us your specifications and requirements,we can manufacture membrane products uniquely suited to your needs